It wouldn't be a new Star Wars show without some character posters to go along with it. With Andor just over a week away, the first batch showcases the characters we've seen the most from during the show's marketing push: Cassian Andor, Mon Mothma, and Star Wars newcomer Luthen Rael. Check them out below:
The posters are fairly basic, but there are a few details differentiating them. Each poster features a different structure behind each of the characters as well as a different formation of X-wings, whether it's in numbers or specific positioning. All of the posters are set to a fiery haze in the foreground with an ominous red sky overhead. This striking red can be seen across other posters too, including the one from Star Wars Celebration. The logo itself has been turned red in the second trailer and in a poster from a couple of weeks ago. Does any of this mean anything other than someone has been having some fun with Photoshop and the rest of their Adobe suite? Who knows, but it does reinforce the idea that Andor won't be your typical Star Wars show.
As far as the characters themselves, Diego Luna and Genevieve O'Reilly return to reprise their roles as Cassian Andor and Mon Mothma respectively. Stellan Skarsgård makes his Star Wars debut as Luthen Rael, who has been seen trying to recruit Cassian to his own cause. One interesting aspect heading into Andor is how Rael's goals will collide with Mon Mothma's as she maneuvers her own plans for the Rebellion while serving in the Imperial Senate. The final trailer released during Lucasfilm's presentation at D23 does give a hint of tension in the room during their scenes together.
There isn't much longer to wait for answers. The three-episode premiere of Andor drops on Disney Plus September 21st.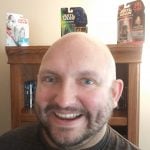 Nate uses his love for Star Wars and movies in general as a way to cope with the pain of being a Minnesota sports fan. When he's not at the theater, you can usually find Nate reading a comic, listening to an audiobook, or playing a Mario video game for the 1,000th time.
source: www.starwarsnewsnet.com