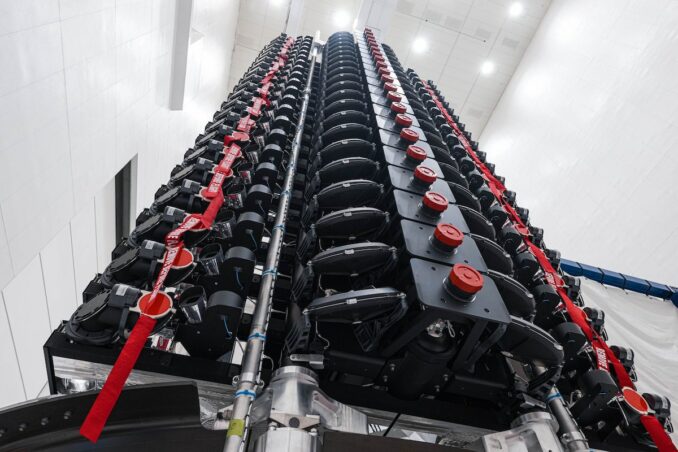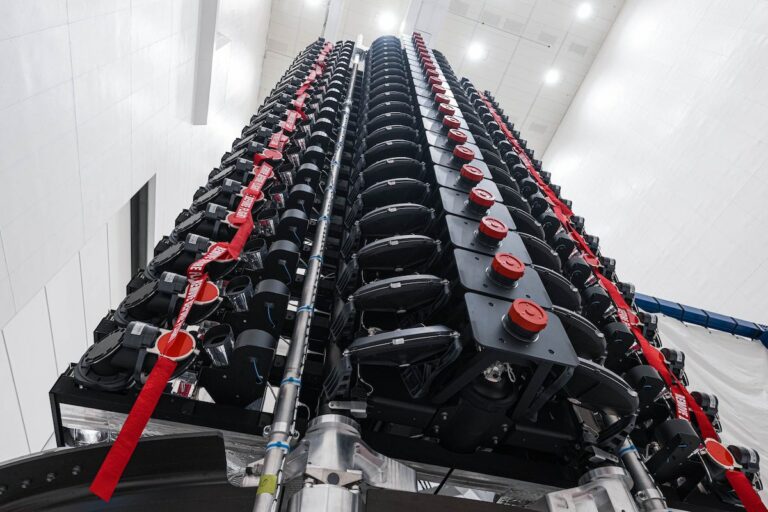 Update 8:38 p.m. EDT (0038 UTC): A scrub was called at T-30 seconds to liftoff. The launch team will target its next launch attempt with a 24-hour recycle. The launch window opens at 7:20 p.m. EDT (2320 UTC).
Original story:
SpaceX is gearing up to launch 23 more satellites for its Starlink internet service from Cape Canaveral on Sunday, its second Falcon 9 launch of the day. Liftoff from pad 40 is scheduled for 8:17 p.m. EDT (0017 UTC).
Earlier Sunday, a Falcon 9 lofted 22 Starlinks from Vandenberg Space Force Base in California. That launch brought the number of Starlink satellites currently in orbit to 4,989, according to statistics compiled by Jonathan McDowell. If all goes according to plan, SpaceX will have more than 5,000 Starlink satellites in orbit by the end of the day.
A forecast issued by the 45th Weather Squadron at Cape Canaveral on Saturday gave the Falcon 9 an 85-percent chance of favorable conditions for launch. The main concerns are violations of liftoff wind limits and rules associated with lightning-triggering cumulus clouds. There was a low to moderate risk of poor weather in the booster recovery area near the Bahamas.
SpaceX has five back up launch opportunities on Sunday night if needed, the last of which is at 10:47 p.m. EDT (0247 UTC).
Spaceflight Now will bring you live coverage from the Cape, starting about an hour before launch.
After lifting off from Space Launch Complex 40 (SLC-40) at Cape Canaveral Space Force Station, the Falcon 9 will pitch and roll onto a south-easterly trajectory as it targets an orbit inclined at 43 degrees to the equator.
The first-stage booster, making its eighth flight, will touch down on the drone ship 'Of Course I Still Love you' about eight and a half minutes after launch.
The booster, tail number B1077, first flew in October 2022, carrying Crew 5 to the International Space Station aboard Dragon Endurance. It went on to fly the GPS III F6, Inmarsat I6-F2, CRS-28, and Intelsat G-37 missions, plus two Starlink delivery flights.
Deployment of the 23 Starlink satellites into a 182×177 mile (293×285 km) orbit is scheduled to occur 1 hour, 5 minutes and 38 seconds after launch.
Tonight's launch will be the 90th orbital mission for SpaceX in the last 365 days, roughly a launch every four days on average. Company officials have said they hope to accelerate the pace of launches and make 100 flights in 2023, surging to a total of 144 in 2024.
source: spaceflightnow.com