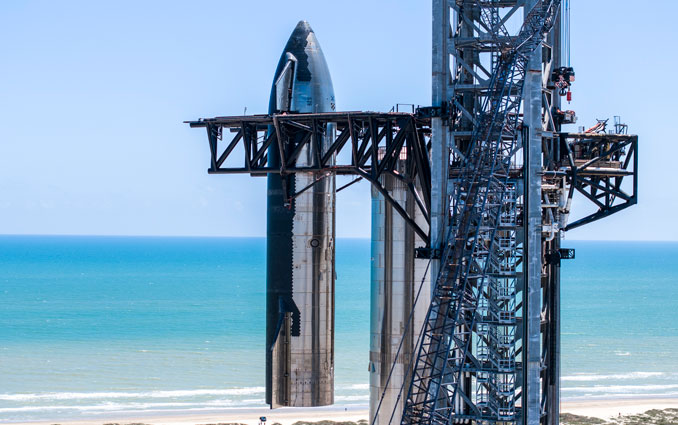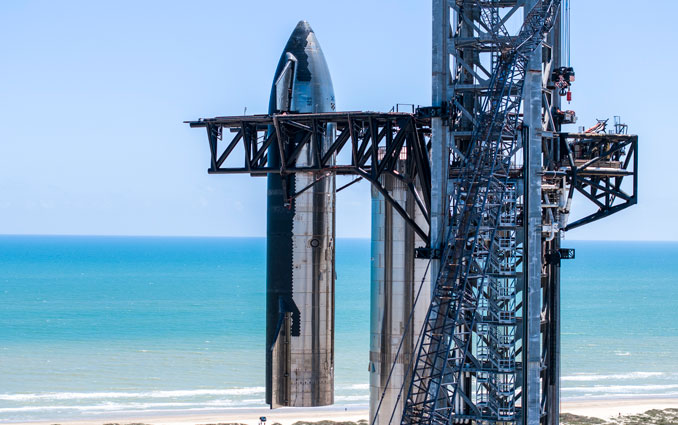 The Federal Aviation Administration (FAA) announced Friday the conclusion its mishap investigation into the first integrated test flight of SpaceX's reusable Starship launch vehicle. It stressed SpaceX has 63 corrective actions that need to be taken before Starship can make a second test flight.
"SpaceX must implement all corrective actions that impact public safety and apply for and receive a license modification from the FAA that addresses all safety, environmental and other applicable regulatory requirements prior to the next Starship launch," the FAA said in a statement.
The announcement came days after SpaceX completed stacking its Starship vehicle (S25) on top of a Super Heavy Booster (B9). Company founder Elon Musk said it was ready for Integrated Test Flight 2 (IFT-2) and was "awaiting FAA license approval".
The FAA said the mishap investigation report itself won't be released publicly due to the disclosure of proprietary information within it, but spoke generally to some of the needed changes.
"Corrective actions include redesigns of vehicle hardware to prevent leaks and fires, redesign of the launch pad to increase its robustness, incorporation of additional reviews in the design process, additional analysis and testing of safety critical systems and components including the Autonomous Flight Safety System, and the application of additional change control practices," the agency said in a statement.
In a letter from Marcus Ward, the manager of the FAA's Safety Assurance Division, to SpaceX dated Sept. 7 and delivered Sept. 8, the FAA noted that the launch license issued for the first test flight, only allowed for one launch and stated that "SpaceX is required to apply for a modification… to allow for subsequent launches."
"When SpaceX applies for this modification, it will need to demonstrate compliance… by evidencing the implementation of corrective actions adopted in response to its April 20, 2023 mishap," Ward wrote in the letter. "If FAA approves the modification, SpaceX will be required to conduct licensed activities in accordance with the representations made in its application… Failure to do so is grounds for enforcement."
Ward concludes his letter by noting that the FAA may not be the only hurdle SpaceX needs to clear before gearing up for IFT-2.
"The FAA's closure of the mishap investigation does not predetermine the results of any ongoing or future environmental reviews associated with Starship operations at Boca Chica," Ward wrote.
The FAA is currently facing a lawsuit from multiple groups, led by the Center for Biological Diversity. The organization's lead attorney in that case, Jared Margolis, told Spaceflight Now that they haven't seen the full list of 63 changes as of yet, but will be looking for more information on the actions of both SpaceX and the FAA.
"The FAA also needs to comply with environmental laws by conducting supplemental reviews under the National Environmental Policy Act and the Endangered Species Act," Margolis said. "It is not yet clear where FAA is in that process, or if they will provide an opportunity for public comment on the changes being made to the Starship program and the potential for harm from further explosions."
SpaceX modifications in progress
Without the full list of 63 changes that the FAA is mandating from SpaceX, it's impossible to know exactly how close it is to reaching compliance, but the company did provide some updates on Friday.
In its own statement, SpaceX said the first Starship flight offered "numerous lessons" that are guiding the updates being made ahead of the next launch.
"SpaceX has built and tested a hot-stage separation system, in which Starship's second stage engines will ignite to push the ship away from the booster. Additionally, SpaceX has engineered a new electronic Thrust Vector Control (TVC) system for Super Heavy Raptor engines," SpaceX stated. "Using fully electric motors, the new system has fewer potential points of failure and is significantly more energy efficient than traditional hydraulic systems."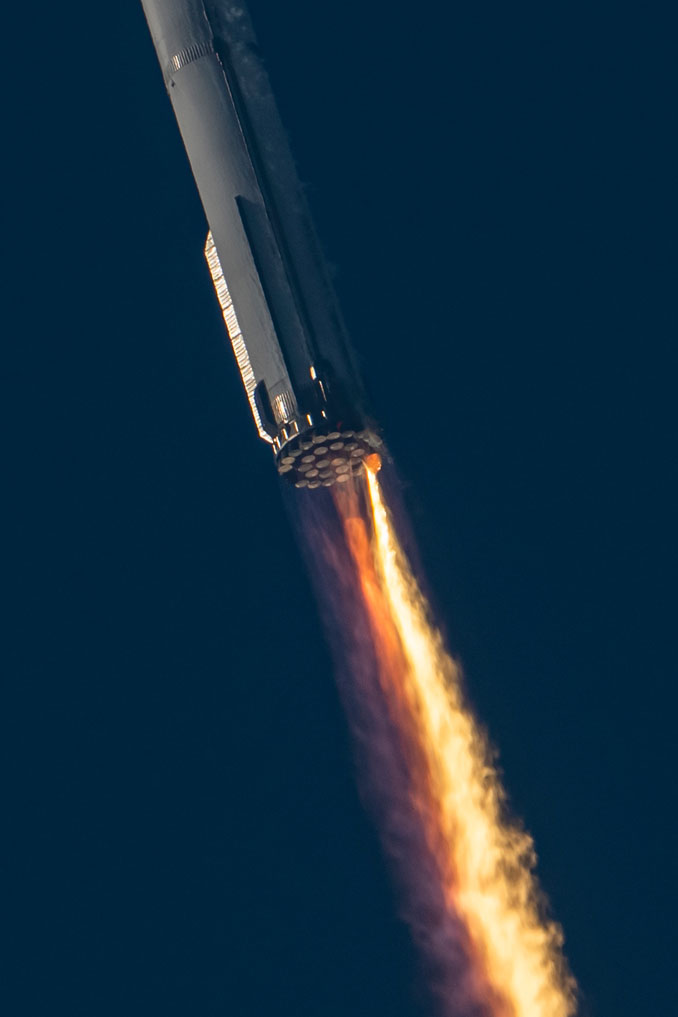 One of the big issues that came up during IFT-1 was the delayed destruction of Starship as it failed to reach stage separation. While making its ascent, there were "fires from leaking propellant in the aft end of the Super Heavy booster, which eventually severed connection with the vehicle's primary flight computer. This led to a loss of communications to the majority of booster engines and, ultimately, control of the vehicle."
"SpaceX has since implemented leak mitigations and improved testing on both engine and booster hardware," SpaceX stated. "As an additional corrective action, SpaceX has significantly expanded Super Heavy's pre-existing fire suppression system in order to mitigate against future engine bay fires."
The Autonomous Flight Safety System (AFSS) issued a destruct command, but there was an "unexpected delay following AFSS activation," which prolonged the destruction until 237.474 seconds following engine ignition.
Spaceflight Now reached out to SpaceX to ask when the destruct command was issued, but as of publication, we have not heard back. The company rarely responds to any media questions. In its prepared statement, SpaceX said it "enhanced and requalified the AFSS to improve system reliability."
SpaceX also pointed to other infrastructure updates, like its flame deflector and reinforcements to its pad foundation.
SpaceX Founder Elon Musk reposted the Starship update to his own account on X, formerly known as Twitter, stating that there have been "Thousands of upgrades to Starship and launchpad/Mechazilla," the name of the tower supporting Starship launches.
SpaceX concluded its statement with an affirmation of its test and development philosophy:
"Testing development flight hardware in a flight environment is what enables our teams to quickly learn and execute design changes and hardware upgrades to improve the probability of success in the future. Recursive improvement is essential as we work to build a fully reusable launch system capable of carrying satellites, payloads, crew, and cargo to a variety of orbits and Earth, lunar, or Martian landing sites."
source: spaceflightnow.com