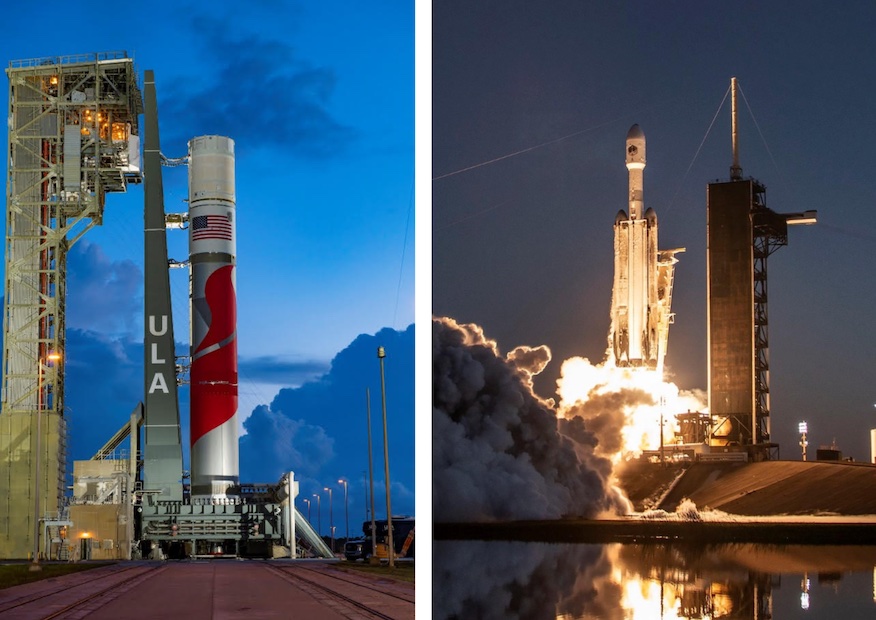 The U.S. Space Systems Command revealed the details of its latest batch of launch contracts for national security missions shared between United Launch Alliance and SpaceX.
This marks the fifth and final year of the Phase 2 National Security Space Launch (NSSL) Service Task Order awards has been issued. It also sets the stage for more launch companies to join in the mix in the future. NSSL missions help protect U.S. assets both in orbit as well as on the ground. They also host technology demonstrations and advancements in various defense capabilities.
However, financial uncertainty on Capitol Hill means that not all of the proposed missions may get funding for some time, including a demonstration of a nuclear thermal rocket.
Among the 21 missions that have been assigned to ULA and SpaceX, only eight are anticipated to be ordered under a continuing resolution scenario, according to the U.S. Space Systems Command:
ULA
GPS III-9 (Vulcan – Eastern Range)
USSF-57 (Vulcan – Eastern Range)
NROL-73 (Vulcan – Western Range)
SpaceX
SDA T1TL-F (Falcon 9 – Western Range)
SDA T1TR-A (Falcon 9 – Western Range)
NROL-77 (Falcon 9 – Eastern Range)
SDA T1TR-E (Falcon 9 – Western Range)
GPS III-10 (Falcon 9 – Eastern Range)
The Space Development Agency's (SDA) T1TL-F mission is the sixth and final mission of the Tranche 1 Transport Layer launches, which "will provide assured, resilient, low-latency military data and connectivity worldwide to the full range of warfighter platforms," according to SSC. T1TR-A and T1TR-E are the two final Tranche 1 Tracking Layer launches, which "provide global indications, warning, tracking, and targeting of advanced missile threats, including hypersonic missile systems."
The launch sites for the eight missions are split evenly between the Eastern Range in Florida and the Western Range in California and will use ULA's forthcoming Vulcan rocket and SpaceX's Falcon 9 rocket.
As far as how these eight missions were chosen to be the ones likely recommended for funding through the continuing resolution, Maj. Christopher Box, the SSC chief of Phase 2 Launch Service Procurement told Spaceflight Now that, "These are the first eight missions expected to launch chronologically."
Currently, the federal government is being funded by a short-term continuing resolution that was passed on Sept. 30 to avoid a government shutdown but it will expire on Nov. 17, once again raising the prospect of a shutdown.
In order to fully fund the government through fiscal year (Oct. 1, 2023 through Sept. 30, 2024), Congress needs to pass 12 appropriation bills. As of Tuesday, according to Reuters, three bills have passed the Senate from a bipartisan so-called "minibus" package and House Republicans have passed seven partisan bills.
Like in September, Congress could pass another continuing resolution while they hammer out the appropriations bills for the full FY24 budget, but a consensus has yet to be reached.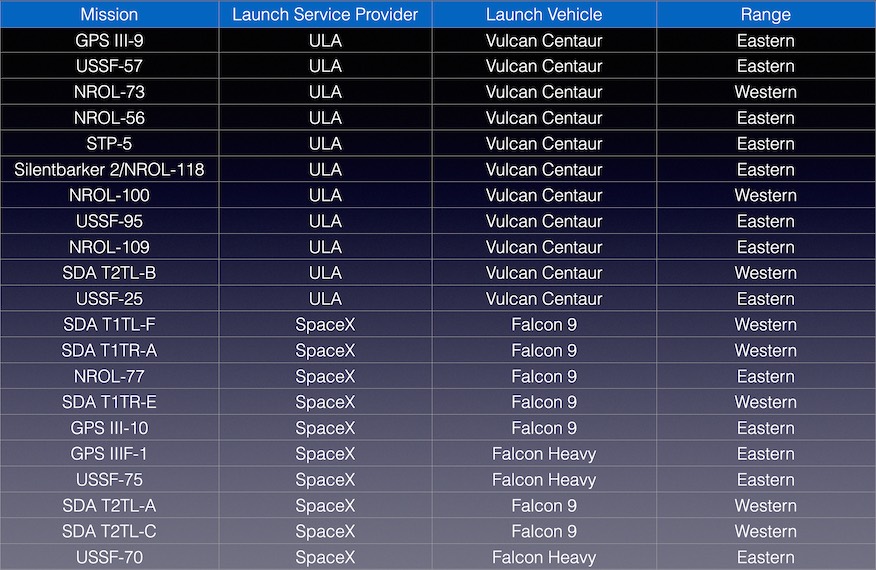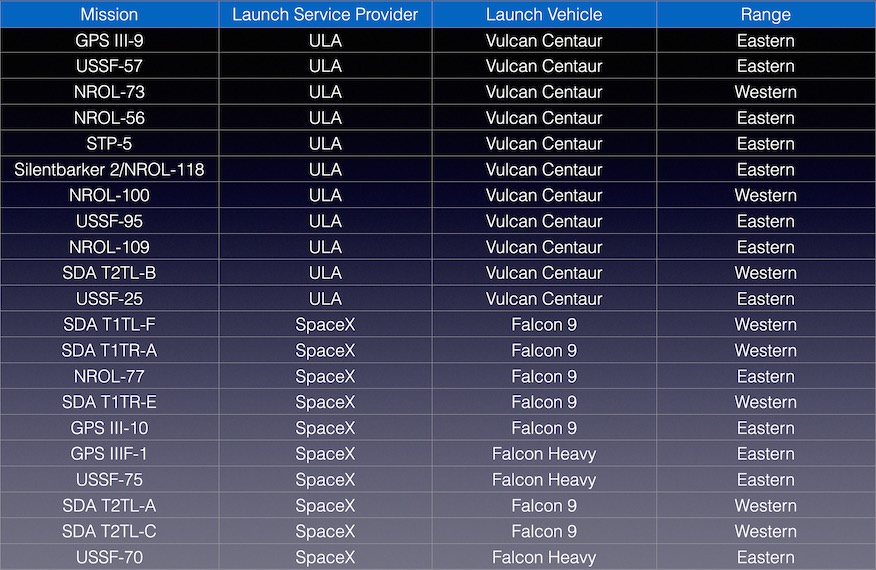 Phase 2 coming to an end
On Oct. 31, SSC announced the planned 21 missions that will close out the NSSL Phase 2 Launch Service Procurement. This collection of launch contracts was first announced back on Aug. 7, 2020, when the Space and Missile Systems Center (officially renamed SSC on Aug. 13, 2021) when the two Firm-Fixed-Price, Indefinite Delivery Requirement contracts were awarded to ULA and SpaceX in a roughly 60-40 split.
"Over the five-year Phase 2 contract, we will have ordered a total of 48 missions, a significant increase over the 34 missions originally estimated leading up to Phase 2," said Brig. Gen. Kristin Panzenhagen, program executive officer, Assured Access to Space, in a statement.  "The increase in launch tempo is a clear reminder of how vital space-based capabilities are in providing our warfighters and our nation's decision-makers with the information needed to stay ahead of and to deter adversarial forces."
Following the first three missions assigned concurrent with the Phase 2 announcement, SSC went on to assign four missions for FY21, eight missions for FY22, 12 missions for FY23 and 21 missions for FY24. The price tag of all the planned mission is approximately $5.6 billion with roughly $3.1 billion awarded to ULA and $2.5 billion awarded to SpaceX.
When the Phase 2 contracts were first announced in 2020, Dr. William Roper, Assistant Secretary of the Air Force for Acquisition, Technology and Logistics, said at the time that it was a "groundbreaking" advancement in launch procurement alongside the National Reconnaissance Office.
"Maintaining a competitive launch market, servicing both government and commercial customers, is how we encourage continued innovation on assured access to space," Roper said in a statement at the time. "Today's awards mark a new epoch of space launch that will finally transition the Department off Russian RD-180 engines."
All of the Phase 2 missions granted to ULA using its forthcoming Vulcan rocket. However, the USSF-51 mission, which was awarded in 2020 for Vulcan, will instead be flown using an Atlas 5 rocket due to delays with the debut of Vulcan. That will launch no earlier than 2024.
Our inaugural #VulcanRocket is now outfitted with both of its GEM 63XL solid rocket boosters that will provide extra thrust at liftoff for the #Cert1 mission to launch a commercial lunar lander to the Moon and a memorial payload into deep space. Launch is targeted for Dec. 24! pic.twitter.com/lfDzG1tGL5

— ULA (@ulalaunch) November 6, 2023
Launching new capabilities
The final batch of Phase 2 missions will see three Vulcan rockets launch from Vandenberg Space Force Base, a capability that is still in development. There will also be three launches for SpaceX using its Falcon Heavy rocket, including to support a next generation GPS satellite.
The GPS 3 Follow-On (GPS 3F) series of satellites feature upgrades like Regional Military Protection Capability and a new search and rescue payload.
Lockheed Martin was contracted in September 2018 to build up 22 of the GPS 3F satellites for a total contract value of up to $7.2 billion, with the first dubbed GPS 3F SV (Space Vehicle) 11. Most recently, SSC opted for its third production option to procure SVs 18, 19 and 20 for about $774 million.
Also in the mix is Defense Advanced Research Projects Agency's (DARPA) Demonstration Rocket for Agile Cislunar Operations (DRACO), designated mission USSF-25. It will demonstrate the abilities of a nuclear thermal rocket in space, powered by high-assay low enriched uranium (HALEU), which researchers believe will have two to three times the efficiency of a typical combustion engine.
The U.S. Nuclear Regulatory Commission defines HALEU as "uranium enriched so that the concentration of the fissile isotope uranium-235 (U-235) is between 5% and 20% of the mass of uranium."
That mission is expected to launch in March 2027, according to a presentation by Tabitha Dodson, the DRACO program manager, during the von Braun Space Exploration Symposium last month. The SSC confirmed that it will launch on a Vulcan rocket.
10/ This is an overview of the flight profile.👇🏾 pic.twitter.com/XdCGaEusKu

— Will Robinson-Smith🚀 (@w_robinsonsmith) October 26, 2023
Another new technology will launch with the USSF-95 mission onboard another Vulcan rocket. That will be the first launch of a prototype Missile Track Custody satellite, which SSC said, "will evaluate the ability of various Next Generation Overhead Persistent Infrared sensor designs to meet missile tracking requirements."
There are also five missions launching in this batch on behalf of the NRO.
"We maintain a close partnership with our mission customers and our domestic launch industry to protect our nation," said Col. Chad Melone, SSC senior materiel leader, Mission Solutions Space Acquisition Delta, in a statement. "Under our Phase 2 contract, ULA and SpaceX have been committed partners, and our combined team remains dedicated to delivery of critical assets to our warfighters as we complete this phase of the NSSL program and embark on NSSL Phase 3 starting in FY25."
Phase 3 will see new entrants into the competition for NSSL awards. Companies like Blue Origin and Relativity Space are expected to vie for the forthcoming launches.
source: spaceflightnow.com