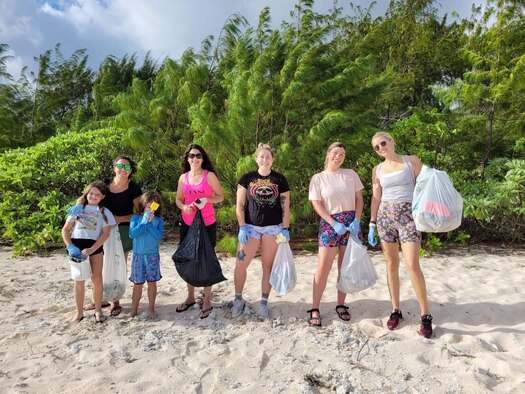 Washington– —
May is designated as Military Appreciation Month to honor those who serve. May 6, the Friday before Mother's Day, is Military Spouse Appreciation Day which recognizes those who also serve but may not wear a uniform.
"Military spouses come from every walk of life; not unlike our civilian counterparts, they represent a number of groups," said Sharene Brown, spouse of Chief of Staff of the Air Force Gen. CQ Brown, Jr. "They are veterans, military members, may have graduate or professional degrees, and may have technical or vocational skills.  They may represent themselves as he, she or they; military spouses do not fall into any one particular category."  
While there are a few standard ways to join the military, there's no typical path to becoming a military spouse.
"When we were first married, being a new military spouse was really different," said Mollie Raymond, who met the now-Chief of Space Operations Gen. John W. "Jay" Raymond during a coffee-and-donuts hour after church. "I didn't grow up in a military family. I was not familiar with moves and transitions.
"Embrace change. There's always somethings to look forward to," added Raymond, who celebrates 35 years of marriage this June.
Brown had some advice for her fellow spouses.
"When you first come into this life, it can be overwhelming because it's a different lifestyle than what most people expect," said Brown, who became a military spouse after returning from teaching English in Japan. "I would say give yourself a bit of grace. It can be very frustrating at first learning acronyms, lingo, and a different culture, but you'll be amazed by who you'll become."
Each of the spouses mentioned military spouse challenges including homesickness, moving, and making new connections with people, just to name a few.
"One of our first tours overseas was in Italy. I considered myself quite the adventurer, but for some reason, I didn't feel very comfortable getting out," recalled Brown, who will celebrate 33 years of marriage this summer. "There was a friend of mine I knew from another location who called me up to show me around, and it was the most fantastic day I ever had."
Paying it forward, Brown now advises other spouses to reach out to incoming families to show them the way, help locate the Airman and Family Readiness Center, and assist in navigating the base. She also asks spouses to find out as much information as possible about the new place before they depart.
Despite the challenges, being a military spouse can also be rewarding.
"A rewarding moment is seeing a spouse, who felt they didn't have much to offer, discover themselves and go forward to enlighten other people," said Brown.
Brown remembered meeting a military spouse recently who turned her love for finding old pieces of furniture and repurposing them into an opportunity to help spouses create "new" additions for their homes while also fostering fellowship.  
Oftentimes, spouses are concerned not only about their significant others, but also for their children.
"I transitioned our kids in and out of schools and made sure that they were adjusting through engaging them in conversation and constantly checking in on them," said Raymond. "It wasn't easy. We had some tough conversations over the years. And they've struggled, but they all have become very strong, resilient young adults."
Raymond advises all parents to "call the SLO (School Liaison Officer) before you go." This way parents can understand what educational options are available for a smoother transition.
In addition to helping others, Raymond advocates for self-care.
"We're always taking care of others, but it's OK to put yourself first too," she said. "Rest and enjoy doing something that gives you the battery recharge we all need to start a new day."
Rachel Rush, spouse of Chief Master Sgt. of the Space Force Roger A. Towberman, advises spouses to keep open lines of communication with their partners.
"You have to be able to talk with your spouse. Even when things are tough, you must talk about it. If there's something you want in life, something you want to do, something you want to be, take those tasks on," said Rush. "Talk to your person as early as possible about what you would like to do with your life. Even though you're on a journey together, it's still an individual life. You want to look back at the end of it and not feel like you've missed out on opportunities."
Rush uses her experience as a spouse and psychiatric nurse to help other spouses.
"In my line of work, which has consisted primarily of in-patient settings, I have unfortunately seen quite a few young spouses.  There are trends related to feelings of displacement. Displacement from family and friends, from everything they've known."
Rush advocates for service members to include their spouses in as many aspects of their lives as possible. 
"Do your best not to isolate your loved ones, help keep them connected in this beautiful new life they've chosen to share with you," she said.
The Thrive Guide was created "by spouses, for spouses" to help navigate the military spouse journey and can be found here: https://www.af.mil/Portals/1/documents/2022SAF/Thrive_Spouse_Guide.pdf.

 
source: www.spaceforce.mil