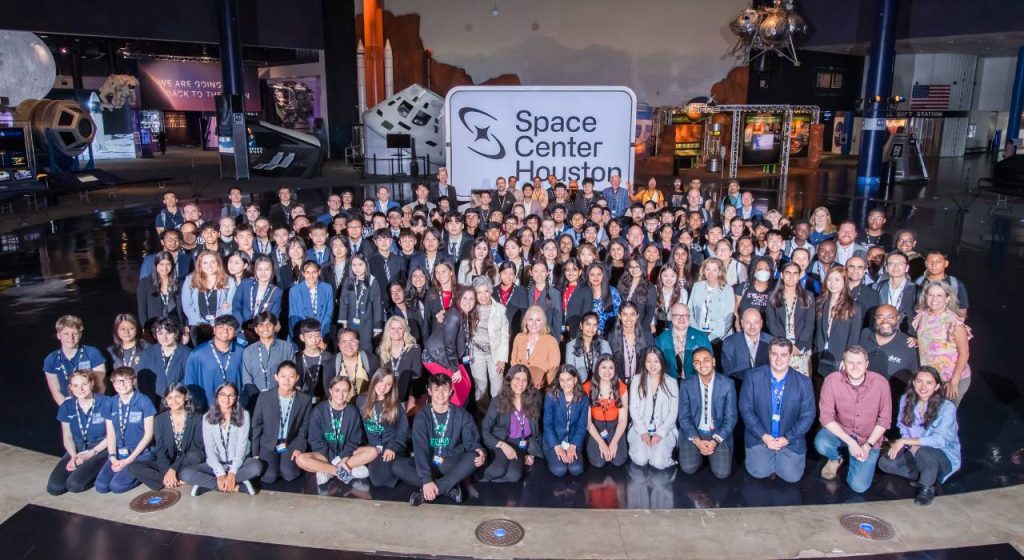 Space Center Houston Proudly Presents an Igniting Innovation and Entrepreneurship Challenge for a Better World
Space Center Houston continues to exhibit a strong focus on STEM learning with the launch of the Conrad Challenge, an extraordinary innovation competition that propels young minds towards a future defined by innovation, entrepreneurship and global impact. Students aged 13-18 evolve into entrepreneurs, combining science, technology and innovation, to tackle global challenges head-on. Registration will remain open until Friday, November 3, 2023, at 11:59 P.M. EDT, when all registered teams must submit the requirements for Activation Stage.
"It is remarkable to witness the transformative power of innovation and entrepreneurship through our student participants," said Nancy Conrad, Founder and Chairman of the Conrad Foundation (Foundation). "The Foundation's increased partnership with Space Center Houston this year marks a pivotal moment in our journey. We are immensely grateful for the opportunity to empower tomorrow's leaders and to equip them with the tools to design a brighter future for us all." As a former high school teacher, she has transformed education by empowering students to "Get Your Genius On®" and embrace STEM fields through entrepreneurial opportunities.
The Conrad Challenge, named in honor of the legendary Apollo 12 astronaut Charles "Pete" Conrad, seeks to cultivate the next generation of trailblazing entrepreneurs who will shape the world's destiny. Participants cultivate collaboration, creativity, critical thinking and communication skills to flourish in higher education and the modern workforce while birthing commercially viable innovations with the power to redefine life on Earth and beyond.
Since its inception, the Conrad Challenge has engaged over 1,000 schools worldwide, spanning all 50 U.S. states and 72 countries. The 2022-2023 competition marked a monumental success with a record-breaking 950 teams participating in the initial round. The Innovation Stage welcomed over 1,300 students, reinforcing the Challenge's commitment to diversity and global representation. The Conrad Challenge stands as a beacon of empowerment, inspiring students to shatter boundaries and forge new frontiers.
"Through the Conrad Challenge, we are lighting the path towards a future where innovation and entrepreneurship shape not just industries, but our very world," said William Harris, President and CEO of Space Center Houston. "This competition empowers young minds to bridge imagination with practicality, catalyzing a generation of leaders who will redefine what's possible."
The Conrad Challenge's year-long journey embarks on four pivotal stages, ending with the prestigious Conrad Challenge Innovation Summit. During the Activation & Lean Canvas Stages, students transcend geographical boundaries to collaborate, devise solutions and tackle global challenges within the Challenge categories.
Students will then enter the Innovation Stage where teams harness the language of business to present marketing materials and pitch their innovations. A panel of experts evaluates entries and successful participants earn the distinguished title of Conrad Innovators. Finalists are invited to the Power Pitch Stage held during the Conrad Challenge Innovation Summit. The Summit allows teams to present their innovations to an esteemed panel of judges, receiving real-time feedback. The winning teams secure scholarships, patent assistance and vital business services to propel their ideas toward reality.
Space Center Houston is thrilled to host and support the Conrad Challenge, fostering a new era of innovation, entrepreneurship and exploration. Together, we're igniting the spark of brilliance in the minds of future leaders.
Teams interested in participating this season should visit https://www.conradchallenge.org/conrad-challenge to register.
For media inquiries, contact:
SanTres Broussard
stbroussard@spacecenter.org
Space Center Houston
Illiana Luna
iluna@spacecenter.org
Space Center Houston
###
About the Conrad Foundation
The Conrad Foundation is a nonprofit organization dedicated to promoting collaborative, student-centered, real world-relevant learning that fosters innovation and entrepreneurship. Through its programs, the Foundation unleashes students' potential to create impactful solutions and a sustainable society for generations to come. For more information about the Conrad Foundation, its Challenge, or the 2022-2023 competition, visit www.conradchallenge.org.
About Space Center Houston
Space Center Houston's shared purpose is to bring people and space closer together. Over 1.3 million visitors and more than 250,000 students and educators visit each year to connect with the significance of space exploration to pursue a path in STEM or follow along as incredible feats of human spaceflight continue to make new discoveries. Space Center Houston is owned by the Manned Space Flight Education 501(c)3 nonprofit organization and generates an annual $118M economic impact to the Greater Houston area. Space Center Houston is a Smithsonian Affiliate, the Official Visitor Center of NASA Johnson Space Center and a Certified Autism Center. Learn more at spacecenter.org.

source: spacecenter.org